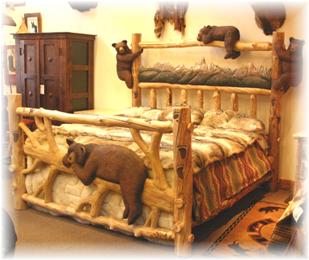 HOME
ABOUT
LINKS
CONTACT
BUY ART
Jonathan The Bear Man
email: [email protected]
phone: (307) 886-9862
fax: (307) 886-1135
Jonathan's Studio
P.O. Box 1329
Afton, WY 83110
Furnishings
"Bringing the Wilderness Home"
Here you will find functional art! Jonathan has many very unique furnishings including fire place mantles, beds, his famous grizzly throne chairs, rocking chairs, hall trees, and much more. He also will work on designs with a patron who has his or her own idea of something unusual! His furnishings are another way Jonathan brings the refreshment of the wilderness to your home or business.
Click on any picture to enlarge and enjoy!
beds :: lamps :: benches and hall trees :: other
Custom designed by Jonathan or you! Each bed is uniquely crafted; not one is the same!
New art from the studio of Jonathan the Bear Man Copyright 2008

California King Teton Grizzly wildlife bed complete with his-n-hers rawhide reading lamps and conveniently hidden lamp switches in bed posts. Papa and Mama griz with up to four cubs. Other details include mountain bluebird and chipmunk guests.

Stately bear bed with detailed backlit relief carving. With seven bears and one racoon,

this bed is both majestic and cozy with the warm glow of the relief. Retail price is $12,500.
beds :: lamps :: benches and hall trees :: other
bears | wildlife sculptures and carvings | furnishings | signage | fine art | monuments | feature collections