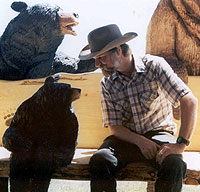 About Jonathan
What others say about Jonathan:
"Jonathan is truly the Michelangelo of wood"
Hollywood Actor and designer and founder of the Codger Pole -- John Crawford
"Jonathan Andrew LaBenne known as, Jonathan The Bear Man's art has given him a distinct place among serious art collectors all over the west and abroad. His creative carvings are known to be the most anatomically correct while projecting living movement and personality! For this reason they are sought after by the most particular art critics. Because of his ability to create life-like images, the wild creatures of the west will forever live in his wood carvings!
"His creative ability and artistic lifestyle have led him in many directions. Since seriously beginning his art career in 1983, Jonathan's art has been earnestly sought after. Among his famous accomplishments receiving national and international recognition are: The 50 ft tall Idyllwild Tree Monument in the San Jacinto Mountains of California depicting native wildlife and man. The Yellowstone Grizzly of Yellowstone National Park standing in the Yellowstone Lodge by the old Faithful Viewing window. The Codger Pole of Colfax, Washington recorded in 'Ripelys believe it or not' as the largest carving in the world: It sports the whimsical likenesses of 52 high school football players who played a 50 year grudge match in their late 60s and 70s! The faces up to 7ft tall capture the moods and excitement of the players Jonathan saw on the recordings of live coverage of the game! Then the 3 Best Western Hotels of Jackson Hole Wyoming made famous by Jonathan's bears and other art! He was granted the "Legion of Valor" Award for the Desert Storm Monument dedicated to the U.S. troops under fire and president George Bush! Presently Jonathan's talents have taken him to Deer Valley, Utah where he carved a 50 foot monument on a major ski run for the 2002 winter Olympics, sponsored by a private individual! This spectacular work of art will truly give him the world wide recognition so deserving to this one of a kind artist."
Ed Garner -- Agent and Owner of Alpine Village Shoppe, Bear Studio and Gallery Wyoming
"Interviewing Jonathan is an experience in itself. You can sense the excitement in his voice when he talks of his love for the mountains!"
Ginny Vandorvort -- Recreation Director, Thousand Trails
"If we weren't on the map before, we are now. Jonathan LaBenne's monument tree has been completed and dedicated...But while I have unabashed admiration for the sculpture, I have mixed feelings about the dedication ceremony.
Being the tree hugger that I am, I'm not a great fan of the roar and fumes of a chainsaw. I always thought that "chainsaw art" was an oxymoron. But after seeing the monument with its awesome eagle, its marvelous mountain lion...and its character-capturing likeness of Emax (contemporary historian, artist and mountain man for whom local trails are named) I've been converted. In fact, after witnessing the live demonstration that transformed a log of incense cedar to a bear cub before my very eyes, you might say I've been born again. LaBenne is truly gifted...
Nevertheless, I was a little surprised by the content of LaBenne's speech...But perhaps that's because I have been off the hill where crowds tend to be less homogeneously WASP and the sensibilities of other faiths are a little more respected.
Our Southland cities tend to have large enough populations of Buddhists and Moslems that most public speakers, i.e. politicians, are a little more diplomatic.
But LaBenne was speaking from his heart, and nobody can doubt that his heart is filled with love for Jesus Christ. And the love for this mountain, its original people (as represented by the special guests from local Native American Tribal groups), its animals (from squirrels to coyotes to butterflies), and the whole community.
And even while the monument and the village huddled in the darkening shadow of a lowering cloud, the high country still blazed golden in the late afternoon sun, providing the perfect backdrop for a monument that deserves its place in history."
Larkette Lien -- Special Correspondent, Town Crier, November 30, 1989


"Jonathan's bears are remarkably anatomically correct capturing the true nature of the bear."
Pauline Casey -- Owner of bear country U.S.A.
"Jonathan's work compliments the western architectural style of our three Jackson Hole hotels to a level which far exceeded my greatest expectations. His work has successfully displayed the true character of the grizzly as well as the black bear as powerful, graceful and natural to our surroundings."
Jerry Johnson -- Owner of The Inn at Jackson Hole, The Lodge at Jackson Hole, and The Resort Hotel at Jackson
"Idyllwild has many of God's blessing, among our most treasured is Jonathan LaBenne and his family. His art has blessed us, his deep faith has inspired us, and his life has been an example for us.
Jon and Pam, we thank you and wish you God's speed as you travel and share your life, your faith and your art!"
Ruben and Sandy Guitarez -- Owners of Seňor Ruben Mexican Restaurants
"Jonathan is known for his capture and love of the wilderness; especially the bear in his art. His work centers on the mountains and all its inhabitants. You have read some of my favorite quotes from others about Jonathan's Character and his Art.
When into his art, he is intense and single-minded, almost worthless for anything else, everyone loses him. On a project, his children, to gain eye contact with their dad, bring him back by saying earth to dad, earth to dad! We get him back when he has completed the project! But that is a true artist! He relaxes and is at home in the wilderness as much as most people are in their living rooms. He derives his inspiration from the wilderness, hiking, canoeing, horseback, rafting, or just being there. He also loves living it through the eyes of his children and others. Following, are quotes I hear from Jonathan often: "You haven't experienced the wilderness till you have been in it over three days, you have only tasted"!
"I love wood" says Jonathan " other mediums have their place but wood is warm and alive! It best symbolizes living flesh. It is a powerful yet humble medium. The Creator designed me an artist to work wood. It is a passion he gave to me!" Last but not least Jonathan says "Art is like a rainbow. Don't define it and lose its symbolism. Don't try to grab it, for it will elude you. Just enjoy it for what it is!"
He loves being with his wife and five children out where it is wild. His patrons who know him don't have to be notified of Jonathan's requirements when he is commissioned a major time away from home! They readily provide accommodations for the whole family; as Jonathan says "they are my life"! I know him best. I have spent 20 years with sawdust in my bed! I am his wife--
Pamela Ann LaBenne
bears | wildlife sculptures and carvings | furnishings | signage | fine art | monuments | feature collections