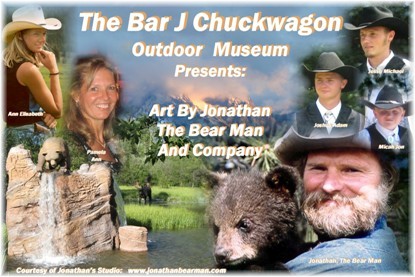 HOME
ABOUT
LINKS
CONTACT
BUY ART
Jonathan The Bear Man
email: [email protected]
phone: (307) 886-9862
fax: (307) 886-1135
Jonathan's Studio
P.O. Box 1329
Afton, WY 83110
The Bar J Chuckwagon Outdoor Museum
The Bar J Chuckwagon provides a hearty western meal, and their after dinner show is the most outstanding show in Jackson, when it comes to family entertainment and great western music. Their dinner of steak, bar-b-qued beef, ribs, or chicken comes with cowboy baked beans, baked potatoes, hot corn bread and delicous spice cake. Their collection of Jonathan's art is growing; the moose is a new addition this year, with more additions to come!
If you would like more information about visiting the Bar J,
or you would like to order a recording, go to www.barjchuckwagon.com.
Click on any picture to enlarge and enjoy!
bears | wildlife sculptures and carvings | furnishings | signage | fine art | monuments | feature collections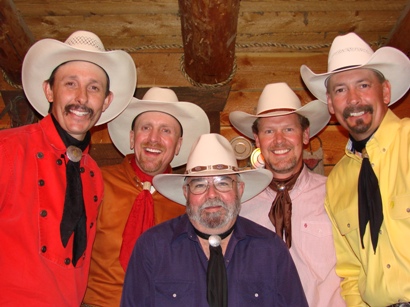 The Bar J Wranglers; Scott Humphrey, Tim Hodgson, Donnie Cook, Danny Rogers and Bryan Humphrey